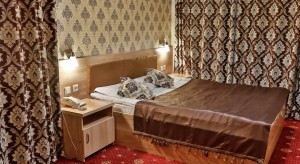 This is a 3-star hotel in the centre of Almaty, offering rooms with flat-screen TV and free wired internet. Abay Opera House and Almaty Central Stadium are within 1.2 miles.
Air-conditioned rooms at Renion Zyliha come with a sofa, refrigerator and satellite channels as standard features. Private bathrooms include a hairdryer and bathrobe.
Guests staying at Renion Zyliha enjoy a light breakfast each morning. Other services include a 24-hour front desk and laundry facilities.
Located on the high slopes of Kok Tobe Mountain, the Almaty Tower is a 15-minute drive from Renion Zyliha and offers beautiful views of Almaty.
Renion Zyliha is ideally located just 3.2 miles from the A3 motorway, which provides good connections to Almaty International Airport.