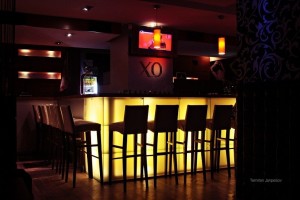 Resident D.J. in the summer.  Inside or outside with meals and business lunch running from noon untill 3pm.
A popular club with a good atmosphere from quite early on. Tables can be booked in advance.
Address: 63 Tole bi Street (Zheltoksan)
Tel: +7 727 2612030
Hotels Near Here
Grand Tien Shan Hotel, Hotel Alma-Ata, City Hotel Tien Shan, Hotel Kazakhstan, Best Eastern Dostyk Hotel and Worldhotel Saltanat Almaty are all within a 10-15 minute drive by car.
Place to eat and drink near Here
Segafredo Zanetti Coffee House, The Shakespeare Pub, La Grenouille are all within a 5 minute walk.

View Almaty places of interest in a larger map