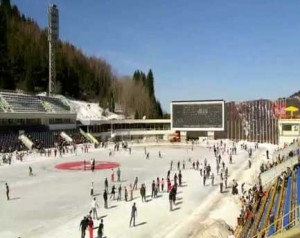 Address: Gornaya St 465, Almaty 050020, Kazakhstan
Telephone: +7 727 232 6848
Website: click here
The Medeo outdoor ice skating ring is designed as a huge speed skating and Bandy area.  Bandy is a team winter sport played on ice, in which skaters use sticks to direct a ball into the opposing team's goal.
The Medeo rink was constructed in 1949, and the first competition took place at the stadium on the February 4th, 1951.   To begin with it was naturally frozen by its location, but, to control its use, it now has a normal refrigerated
The statistics of the ring are really impressive.   It is located on the eastern outskirts of Almaty at an altitude of 1,69o metres and has an area of 10.5 thousand square meters of ice.   The altitude has made the ring the highest skating ring in the world.