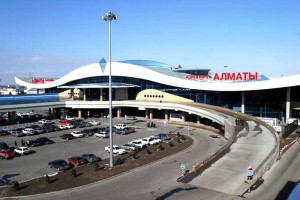 Almaty International Airport is the largest international airport in Kazakhstan. It is about 15 km (9.3 mi) northeast of Almaty. Almaty airport accounts for half of passenger traffic and 68% of cargo traffic to Kazakhstan. In 2012, the airport handled 4,003,004 passengers, including 1,997,570 arriving passengers, and 2,005,434 departing passengers. A typical car ride to the airport from Almaty takes between 30 mins and 50 minutes (depending on traffic). Practically every part of the country can be reached by air from Almaty.
During the day you can take bus #92, #79. #106 and #86 to the city center, otherwise official taxis are available from the airport.
For Live Arrivals/Departures please Click Here
Below are the airlines that fly to Almaty and where they fly from.
Airlines
Destinations
Aeroflot
Moscow-Sheremetyevo
Aeroflot


operated by Rossiya

St Petersburg
Air Arabia
Sharjah
Air Astana
Aktau, Aktobe, Astana, Atyrau, Baku, Bangkok-Suvarnabhumi, Beijing-Capital, Bishkek, Delhi, Dubai-International, Dushanbe, Ho Chi Minh City, Hong Kong, Istanbul-Atatürk, Karagandy, Kiev-Boryspil, Kuala Lumpur–International, Kyzylorda, Moscow-Sheremetyevo, Oral, Oskemen, Paris-Charles de Gaulle, Pavlodar, St Petersburg, Seoul-Incheon, Taraz, Tashkent, Tbilisi, Tehran Imam-Khomeini, Ürümqi
Asiana Airlines
Seoul-Incheon
Bek Air
Aktau, Aktobe, Astana, Atyrau, Kostanay, Oral
Belavia
Minsk
China Southern Airlines
Ürümqi
Czech Airlines
Seasonal: Prague
Ellinair
Seasonal: Thessaloniki
flydubai
Dubai-International
Hainan Airlines
Beijing-Capital
KLM
Amsterdam
Lufthansa
Frankfurt
Mahan Air
Tehran-Imam Khomeini
Pegasus Airlines
Istanbul-Sabiha Gökçen
Pobeda
Samara
Qazaq Air
Astana, Pavlodar, Shymkent, Kostanay, Kyzylorda, Semey
S7 Airlines
Novosibirsk
SCAT
Aktau, Aktobe, Astana, Atyrau, Karagandy, Kokshetau, Kostanay, Mineralnye Vody, Oral, Oskemen, Petropavl, Semey, Shymkent, Taraz, Urdjar, Xi'an, Zhezkazgan
Seasonal: Sanya
Somon Air
Dushanbe, Khudzhand
Tajik Air
Dushanbe
Turkish Airlines
Istanbul-Atatürk
Turkmenistan Airlines
Ashgabat

Ukraine International Airlines

Kiev-Boryspil
Uzbekistan Airways
Tashkent